The GS TerraElast system coats each grain and bonds the stones into a stable,
sound-absorbent, and above all water-permeable composite.

The granulate is only bonded at the contact points.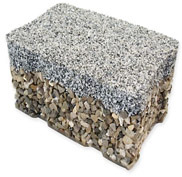 This results in water-permeable "open"spaces (proportion : approx. 40%).

Standard street cleaning used on conventional asphalt roads prevents clogging of the pores.

On the other hand, ultra-quiet asphalt made of "leftover" used oil compounds from the heavy oil industry is self-clogging, releasing its own components when subjected to heat and pressure.

TerraElast is elastic, inherently stable, and does not leach; as a result, it is classified in water pollution class 0.


Installation Details

Sandwich Architecture:
Road, sidewalk, and yard construction applications.

With GS TerraElast, only two layers are required:
1. Base Layer (Base Course) (10-25 cm)
2. Surface Course (2-4 cm)
=======> max. 29 cm total thickness

This 2 layer design offers material savings and improved effectiveness when compared to traditional asphalt applications which usually consist of 3 to 5 layers.

The base layer is made from coarse crushed stone (8/11 mm up to 22/33 mm depending on the requirements) is applied, graded, compacted, and sprayed with a binding agent. The binding agent bonds the base layer, creating a stable structure. The surface course is applied over the base course.

The granulate for the surface course is evenly mixed with the binding agent, applied over the base course in a viscous state, and then smoothed and compacted with a roller.

The process uses conventional road construction mixers and surface preparation equipment.

Preliminary steps in the "asphalt mixer" are identical.

With a 25 cm base course and 4 cm surface course, the system is suitable for heavy traffic.

The surface is fully load-bearing after 24 hours, which results in cost reductions due to an efficient installation process.
Durability, Strength and Long-Term Performance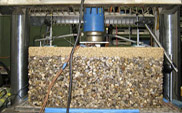 Long-term tests in Mannheim and Freiburg, Germany have shown:
Water permeability - with a corresponding grain size (surface course 1- 3 mm), there is no significant reduction in seepage after 10 years.

The surface is resistant against acids, leaching, and solar radiation.

It is extremely pressure resistant and has a high tensile strength.

Faculty for the construction of state transportation routes, Prof.
Leykauf, Munich Technical University, research report 2362
dated 05/06/2007
"The tests that were conducted resulted in characteristic values
that indicate the load capacity of the structure under heavy
truck traffic (high axle weights) and equipment such as fork lifts
(high contact pressure while turning) is several times higher
compared to asphalt."

Prof. Leykauf, Munich Technical University, research report 2385; 27/09/2007:
"In (wear tests under extreme conditions) ... with a tire contact pressure up to pm=0.8 N/mm², no surface deformation occurred (no lane grooves). ... The superstructure that was tested is highly resistant to deformation."

GS TerraElast construction materials are more durable under heavy loads, remaining elastic and retaining their shape when exposed to heat.
Bending tensile strength up to 20 N/mm²
Pressure resistance up to 45 N/mm²