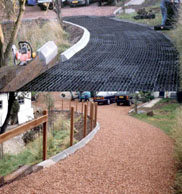 What is GROUNDSOLUTIONS?
GROUNDSOLUTIONS is a grass paving system used for various areas of application. The Product range includes four different versions:
GS-PRO replaces conventional grass paving systems on gravel surfaces; GS-ONTOP is intended to be used atop of existing or newly laid grassed surfaces. It is almost invisible and protects the turf. GS-ONTOP requires no substructure and is able to support light traffic on firm ground;
GS-PADDOCK as well as GS-ELASTIC are products especially developed to meet the requirements in constructing riding grounds for horses.