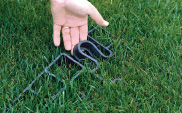 Fast, Flexible, and Simple!
GS-ONTOP is a new product introduction to the "GS-FAMILY" of grass or gravel paving solutions. It is simply laid onto the grass surface and is ready to be used.
GS-ONTOP holds its shape and strength and is able to support light traffic on firm ground. GS-ONTOP is only 2.5 cm thick and is almost invisible. It can be applied onto newly laid surfaces or on top of grass. GS-ONTOP units are wider at the bottom and therefore turf is protected from heavy loads which allows for excellent growth.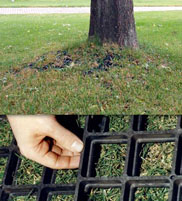 As it needs no substructure or excavation, GS-ONTOP can be set down easily by anyone. Due to its unique design, it provides a visually pleasant and stable surface which can be extended or varied according to specific requirements.
Furthermore it is a cost effective and attractive way to border grassed areas. The grassed area needs to be mowed, leveled and fertilized before GS-ONTOP can be put into place. During the first week, GS-ONTOP will sink into the soil and become almost invisible.
GS-ONTOP units have been used especially for infrequently used parking areas with less traffic, ie: golf and camping sites. Places where occasional events take place, can be laid with GS-ONTOP as well.
GS-ONTOP used in connection with gravel/grass areas is ideal. No mud in bad weather conditions, no hurling stones when grass is mowed. Furthermore the gravel/grass substructure is durable enough to absorb heavy loads.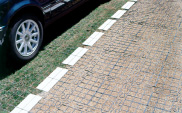 GS-ONTOP is made of pure recycled polyethylene, like GS-PRO. Hence it is environmentally friendly.
GS-ONTOP units are very thin, more than 90% of the area remains green and water can seep easily into the soil.
GS-ONTOP is viscous and flexible. It cannot break or splinter when it is exposed to heavy loads or frost. As it is very flexible, tensions can be absorbed easily and units fit extremely well together, even gradients can be easily laid.
The size of GS-ONTOP units is 50 X 50 cm (an "Euro-pallet" is 100 m²). GS-ONTOP pavers can be laid down in areas where loads have to be absorbed very simply and cost-effectively. GS-ONTOP was awarded as an especially innovative product at the GaLaBau Fair in Nuremberg, Germany, world's best known fair.
We provide a 10-year warranty on GS-ONTOP, GS-PRO, GS-PADDOCK & GS-ELASTIC.